New Green Smoothie Game!
The object of the game is to collect enough fruits and greens to feed all the animals with green smoothies. Tilt your phone to fill the blender. This will get progressively harder as you advance in the game.Watch out for non-edible objects, as they will set you back.

Keep an eye on the fruit and greens sidebar on the left. In order to pass each level, you need to accumulate enough fresh ingredients for your animal to make a smoothie.

Every time you complete a level, you will receive a special treat!



Green Smoothie Recipe App on your iPhone
| | |
| --- | --- |
| | If you have an iPhone, you can have instant access to countless green smoothie recipes. Along with nutritional data, I have included the nutritional highlights of what foods are beneficial for particular health condition. Easy to use nutritional highlights enable you to maintain optimal caloric intake along with maximum nutritional value. The convenience of this program has pushed it to the the top of the 100 most popular apps. |
New Fruit Pick Game!
This game is:
-Engaging because it requires logical thinking
-Exciting, since each move can help you win or lose the game
-Fun, because you meet many new fruits
-Rewarding, you receive a fun quote after finishing each level
-Beautiful due to its exquisite design
-Educational because you learn cool facts about fruit
-A classic, since it is based on the game, mahjong. The myth of the origin of mahjong suggests that Confucius, the Chinese philosopher, developed the game in about 500 BC.
-Healthy, as you will be inspired to try new fruits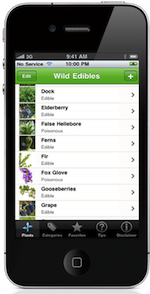 Wild Edibles iPhone App
I am so proud to announce that my iPhone wild edible app is finally out! I spent almost the entirety of last winter compiling valuable information on wild edibles. This app not only helps the user learn new edible plants, but it also offers nutritional highlights for every plant, provides you with a recipe for each plant, gives you tips on how to gather / eat each plant, and much more…



Go to http://itunes.apple.com/us/app/wild-edibles/id430951647?mt=8 to download the Wild Edibles iPhone iPhone App
Valya's Quality Produce App
If you are tired of stringy avocados, sour grapefruits, and flavorless peaches, then you will love the Quality Produce App. This tool will help you choose the ripest, sweetest, and freshest produce every time without fail!

Having this app on your iPhone, iPad, or iPod Touch will inspire you to sink your teeth into some of the world's most delicious edible treasures. We have worked hard to compile this ultra user-friendly app, filling it with clear images and hundreds of useful tips that will take the guessing out of shopping. Use the Quality Produce app right in the store to become an expert in no time. With the audio function, just plug in your headphones and listen while you peruse the produce section. Take your food preparation to new heights, and leave your friends raving about the decadent flavors of even the simplest of your favorite recipes using the Quality Produce app.

FEATURES:

• 50+ edible fruits, vegetables, and greens covered in great detail.
• Audio function allows one to listen as well as read right in the store.
• Hundreds of useful tips proven time and again to be effective.
• Beautiful color photographs make identification simple and clear.
• Alphabetical listing for easy scrolling and selection.
• Helpful tips on what qualities to look for or avoid.
• One fun, easy to remember nutritional fact about each item in this app.
• Free updates for life

Whether you are a health enthusiast, hipster, foodie, or simply a busy parent, we are confident you stand to gain from this app!