Raw and Beyond
By Victoria Boutenko, Elaina Love, Chad Sarno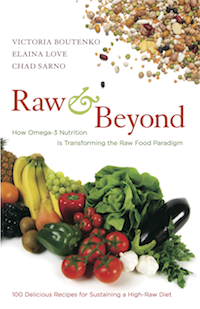 In this book we present our revised approach to raw food. All three of us discovered the benefits of eating raw at about the same time, some seventeen years ago. Throughout this period, we often participated in the same events, either serving raw food or teaching others how to prepare it.

In 2010, our paths crossed again at a Living Light Culinary Arts Institute in California. We were intrigued that we had all independently come to similar conclusions about our diets and had begun practicing "beyond raw" cuisine. As we discussed this coincidence, we decided it was important to share our adjusted raw food diet with our followers.


Price: $16.95 each, available for order at http://www.rawfamily.org/products



Quotes
From the back cover:
"Raw food is a great tool for cleansing and healing, but for our everyday world, striving for a high-raw diet may make more sense. Victoria, Elena, and Chad explain why…. A must-have in every fresh kitchen."


—Ani Phyo, author of Ani's Raw Food Asia



"Raw and Beyond is a refreshing read.… With humility, surrender, and compassion, the authors write about what it means to come full circle on the journey and apply the wisdom of what really works. Anyone touched by the raw foods movement will find several "aha" moments and great peace in what this book has to offer."


—Elizabeth Howard, certified nutritional therapy practitioner and owner of Deep Rooted Nutrition



"A conscious leap upward in today's shifting raw food paradigm…. A time-sensitive teaching that resonates with the spirit of natural healing and balance."

—Ingar Brunnett, clinical nutritionist, reiki master teacher, and founder at Divine Light Studio
"'Green Smoothie Queen' Victoria Boutenko re-envisions the raw food diet under the lens of important omega-3 science. Chefs Elaina Love and Chad Sarno show that a diet consisting exclusively of gourmet raw food cuisine may not be so great for your health. All three authors have put their reputations as raw food gurus at stake to share the important information they have discovered."


—Dr. B. J. Adrezin, CEO, POTENT FOODS, Inc.


Price: $16.95 each, available for order at http://www.rawfamily.org/products